Archive for the 'case studies' Category
Monday, March 8th, 2010
Capture Press aimed to be an internet and print-on-demand publishing platform. They wanted eschew the traditional relationship that writers have with their publishers, which is to say, there isn't one. When there is, it's the publisher wanting something from the writer, wanting it now, and without any say in it from the writer. This was different, all the power and 100% of the proceeds from published materials were meant to go to the writers. The website would pay for itself hosting free content to bring in traffic, as well as hosting a strong community for the writers to meet and benefit from each other.
Before any of that could happen, however, the client needed not only a brand/identity, but a concept and a name. That's where Razterized and I came in. The client was familiar with me as a writer first, and realised that I'd best be able to identify with their needs and execute their goals when it came to design related elements.
The first step was to address the client name.
Naming Capture Press
The client and I had talked at length about the goals of this venture, and the attitude it should carry. It was meant to be revolutionary publishing, "giving the power back to the serfdom" in the writer-publisher relationship. It was meant to be publishing for a new age. The mind immediately ventures toward thoughts of great societal constructs being crippled under a revolution. The fall of any great government. The burning of Rome. There's a danger in using something like that for a company name, though. It might lead customers to believe it's a choice based on genre, not mission. The only things we could come up with that were even slightly decent along this path were "Grey Culture Publishing," "The Fourth Estate" and "The December Press." Which is to say, I chose a different direction.
The final product needed to sound fresh, new and exciting. Not traditionally used as a company name, but versatile, and describing a forward action of some kind are action verbs. Words like acquire, defer, and improve, etc. They're also vanilla enough so that they wouldn't be associated with genre first.
Pouring through several lists of action verbs, as well as any others I could think of, I compiled a list of action verbs I thought would work well.
Afterward, I had the above list of twenty-eight action verbs. To narrow down the selection, I ran through each verb, applying to it any associations I had to see if they fit the tone we were trying to reach. After the litmus test, I had narrowed it down to the ten that I thought as standalones sounded the best.
I was left with launch, attract, inspire, uncover, transform, defend, gather, solve, upgrade and capture. I then asked the client for three terms (nouns) that they wanted their product to encompass that I would then pair with the action verbs. They said, "excitement, imagination and suspense."
With that information in hand, I went back to pen and paper pairing the verbs with the nouns.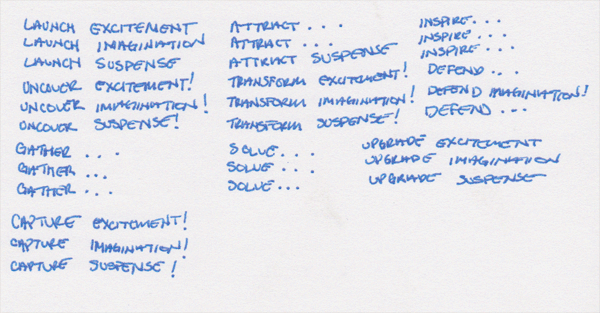 As I moved onto this part of the process, it became quite clear that some of these – while sounding great on their own – didn't work very well when paired up, and moved too far away from our goals. It was important to make sure that the pairs worked, too, because the verb/noun pairs could easily work as taglines for branded materials.
I had narrowed the initial list of twenty-eight down to five: capture, upgrade, transform, uncover and launch.
Now with the action verbs, I wanted to create concrete company/business names. Simply "Capture" or "Transform" just wouldn't work so much. I decided to pair each up with a couple industry-standard terms that everyone would understand: press and publishing. I also wanted to pair them with some other non-standard terms like vault, repository, registry, and library.
This worked with mixed results, and on pen and pan I wrote down the lists, then went over them over and over again, making notations about what wasn't working.
At the end of making all my notations, I'd had a good group of ten workable names, but wanted to narrow it down further for the client presentation. I kept only Capture Press, The Upgrade Repository (my personal favourite), Transform Publishing, The Unlock Registry and Launch Press. Materials and a cleaned up presentation in hand, it was time to visit the client.
Throughout the meeting, two stood out in the client's mind. Transform Publishing was too much of a commentary on what they were aiming to do, The Unlock Registry just didn't make enough sense and The Upgrade Repository was too flashy and abstract. They loved both Capture Press and Launch Press. They really didn't know how to choose between these two. It came down to my opinion. I went back through my notes and scribbles and got back to the original pairing of the action verbs with the three vital nouns.
Capture Excitement! Capture Imagination! Capture Suspense! vs. Launch Excitement! Launch Imagination! Launch Suspense! Side-by-side, to me, Capture was clearly the stronger of the sets. Launch just seemed to be a starting point for each of these descriptive nouns whereas Capture seemed to already have these things, own these thing, taken by force. In this context, Capture seemed much more provocative. The client agreed.
We had our name: Capture Press.
Drafting a Logo
The first thing I want to do when drafting a logo are a series of "cocktail sketches." I call them these because of the old idea of drawing or writing on cocktail napkins. I have several smaller notebooks that I will use, scribbling logo concepts into. These are often very rough sketches, in various states of completion. They're just there to get my mind rolling, or the conceptualise what I see in my head. As you can see, they're pretty crude.
From the instant we had decided upon Capture Press, I had a central theme I wanted to explore: handcuffs. Little says "capture" quite like handcuffs, and the circular shape lent itself perfectly to the letterforms of the client initials, "c" and "p." A majority of my early sketches reflect an attempt to make that work. Other rough concepts centered around my associations for capture, like escapism, prisons, lassos and Houdini.
Afterward, I'd go back refining these sketches in better detail, picking apart the ones that might work, perfecting the ones that would and discarding the rest.
Then it was time to step into Adobe Illustrator, and get the best concepts dialed down, cleaned up and properly treated with type samples. A smattering of them included:
I still liked the concept of the handcuffs, but it became obvious that trying to force the "p" was not working. Not to mention that there was an associated element of inappropriateness to the handcuff motif. The stand alone "c" above the serif capturepress was effective, but was perhaps too traditionally print-like. I also decided to leave the more circular typefaces at home in favour of gothic typefaces. I quickly settled upon Alternate Gothic No. 2 as the best option. I still liked the joined handcuffs inside the circle above a simple CAPTURE treatment, as well as the simplified concept of the keyhole. I'd also still be willing to tug at the "c" handcuff icon.
I ended up presenting just these two:
The client liked both, but concluded, as I did that handcuffs might not be the correct style of iconography, no matter how cleanly it was presented. They also insisted that the term "press" be brought back into the logo. I showed a few samples of that logo with press beside it, below it, struggling with the balance of weight that adding press took away from the lock-element, finally settling on the approved logo:
I'll save for another post how we expanded the identity into a full brand across web and printed collateral.