Scope
This project was for a small, boutique e-commerce client. Their focus was on five altruistic commerce markets: ecology-friendly, world peace, locally made, US-made and the promotion of good health.
Included in the project duties were to come up with not only a identity, but expanded brand materials, a company-wide style guide, marketing materials and a website design.
Brand & Identity
When developing the brand, we identified two main themes: from a content standpoint, the five commerce markets were vital and central to the company but from a visual and messaging standpoint, we wanted to highlight how good and simple the products would be.
That left two goals: incorporate the five commerce markets into the brand, and highlight the phrase "simply good." From a messaging standpoint, the emphasis on this phrase would speak definitively of quality.
Along these lines we felt that keeping the logo, well, simple would strengthen that messaging. Hierarchically, we arrived at making "good" larger and bolder, the main visual cue.
A period was added as if to end the statement; it became definitive. The products were simply good. Nothing else.
A few more options were tried: including the term "shopping" and then highlighting the commerce markets with simple visual cues.
Ultimately, these attempts didn't strike the right balance despite solid messaging. We would ultimately riff on the same core messaging and themes, but as a request, we explored first, a complete focus on shopping.
The full messaging while highlighting shopping lost a lot of its impact and the individual cues ended up lost. So we returned to the original messaging.
The goal became to reinforce the altruistic nature of the shop with a natural, earth-toned palette. and go with a modern, Gothic typeface. To keep things simple we refrained from including the commerce markets all at once, but used art as typography to highlight them individually (pictured are the iconography for the default logo, eco and health). This was the right balance of messaging, visual hierarchy and gave us great marketing versatility.
Website
When it came time to develop the website, we wanted a shop that would seem entirely contiguous while serving a multitude of different types of products across the five different commerce markets. We also wanted the shop to feel small, earnest; boutique.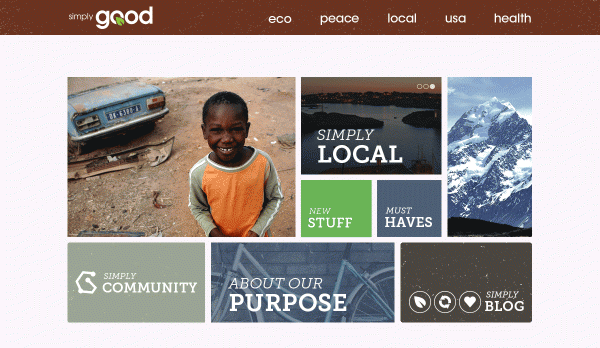 For its wide range of products, we studied Fab.com as well as VisualJunkie for its similar versatility and boutique feel. Additionally, for "natural" and "earthy" we studied several outdoor apparel and tea websites.
Due to the nature of the project, and its altruistic aims, we knew that customers would be extremely interested in the the company itself (if not more so than the products) past, present and future. It was also important to build a community around these goals. Accordingly, we designed a somewhat unconventional "collage" hero graphic that combined community, about and blog as well as commerce calls-to-action.